Mike Love:
Reason for the Season

PRESS RELEASE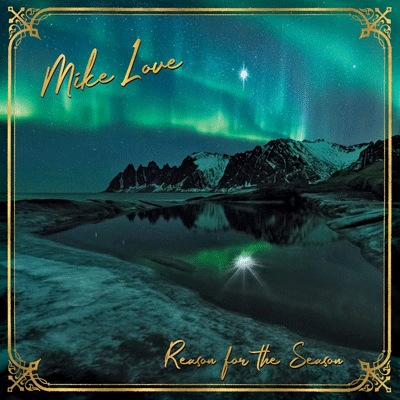 Mike Love of The Beach Boys Finds a "Reason for the Season" with New Christmas Album Out October 26th on BMG
12-Track Album Features New Holiday Songs & Christmas Favorites with Special Guests including Hanson
Los Angeles, California — September 20, 2018 — Mike Love, legendary Rock and Roll Hall of Fame member and co-founder/lead singer of The Beach Boys, will release a new collection of holiday songs Reason for the Season, via BMG on October 26th (CD/digital formats). The album will also be available on special festive vinyl on November 2nd.
The 12-track album features an array of new holiday songs and Christmas classics that range from bright guitar and horn-filled pop and rock and tracks, and softer traditional carols and ballads. Sam Hollander (One Direction, Panic! at the Disco, Train) and Steve Greenberg (Hanson, AJR) produced five tracks on the album including the jubilant title track and the buoyant anthems "It Must Be Christmas" and "Finally It's Christmas" featuring Hanson. This marks Love's second recording with Hanson as they collaborated on the summer single "It's OK" released in August 2018. Hanson famously recorded a version of Beach Boys classic "Little St. Nick" for their 1997 Christmas album, Snowed In.
Grammy-winning producer Michael Lloyd (Dirty Dancing) and the touring Beach Boys' musical director Scott Totten also served as producers on the album. Lloyd produced two tracks including a new version of "Alone on Christmas Day" and "Little St. Nick." Totten collaborated with Love on five additional tracks featuring all of Love's children (All Love) Ambha, Brian, Christian, and Hayleigh Love on "Do You Hear What I Hear," "O Come All Ye Faithful," "O Holy Night," "Away in a Manger" and "Bring a Torch."
"Music is something that always brought my family together, especially around Christmastime," says Love. "What is so special about this collection of songs is that they both harken back to the wonder of childhood and family, but also feel very relevant and exciting for a new season of listening. It's a such a joy to create this music with my actual family and my family of collaborators, Sam, Steve, Michael Lloyd, Scott, and Hanson. We're looking forward to being part of the soundtrack of many holiday seasons to come."
To support the album, Beach Boys Mike Love and Bruce Johnston are embarking on a 22-city holiday tour which kicks off in Chattanooga on November 16th. Tour dates.
Maintained by the webteam • Last updated September 20, 2018