Al Jardine, Founding Member of The Beach Boys, Releases Debut Solo Album on Vinyl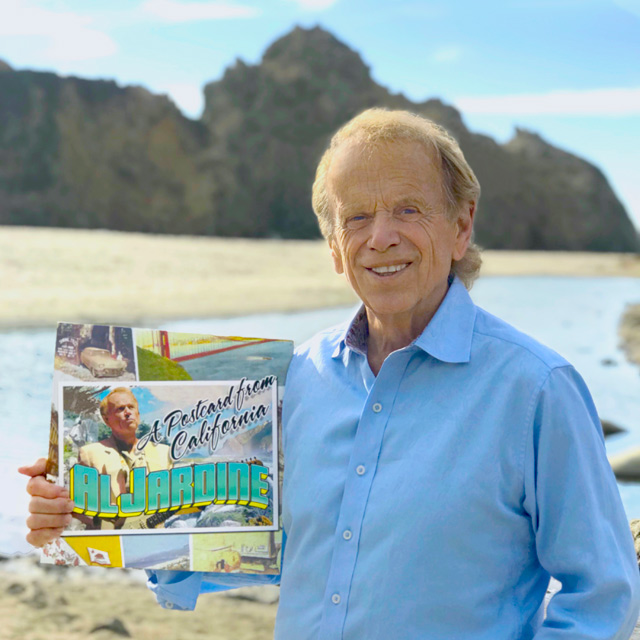 PRESS RELEASE
Limited edition vinyl album to be released for first time on Record Store Day Black Friday, November 23, 2018
Big Sur, CA — Nov. 1, 2018 — The legendary Al Jardine, guitarist, vocalist and songwriter, best known for being one of the founding members of The Beach Boys, is releasing his debut studio album, A Postcard from California, on vinyl for the first time. Mastered impeccably by Joe Reagoso at Friday Music, the album will be released in 180-gram audiophile translucent blue vinyl with a gatefold cover on Record Store Day Black Friday, November 23, 2018. Limited to 1,000 copies, each album will also contain a limited-edition postcard signed by Al and be available at participating Record Store Day Black Friday record stores only.
A Postcard from California, originally released digitally and on CD in 2010, touches upon California's history, natural beauty, and other environmental issues and features guest appearances from David Crosby, Steve Miller, Neil Young, Stephen Stills, Gerry Beckley, and Dewey Bunnell (America), Flea (Red Hot Chili Peppers), Neil Young, Alec Baldwin, and the late great Glen Campbell, along with Brian Wilson and The Beach Boys. The album also includes the song "Don't Fight the Sea" (released as a 7" single on white vinyl on Record Store Day 2011 to help raise funds for Japan disaster relief) and features one of the last studio vocal recordings from the late Carl Wilson, along with new versions of The Beach Boys classics "Help Me, Rhonda," and "California Saga" and a heartfelt rendition of The Mamas & The Papas' biggest hit, "California Dreamin'."
Says Al Jardine, "Thank you vinyl world, it's so nice to hear A Postcard from California in this classic format — it gives my ideas and thoughts in music a whole new warmth and feeling, my songs were truly intended to be heard this way. I think this will be a great Black Friday buy, but please don't fight over it, though you may want to get in line early at your local record store. This Thanksgiving in addition to my family, friends and fans, I'm thankful for Record Store Day!"
For more info, please contact Spud () or visit www.fridaymusic.com and Al Jardine's official website, www.aljardine.com.

Photo courtesy of Mary Ann Jardine
Track Listings:
Al Jardine: A Postcard from California special-edition vinyl LP
SIDE 1
1. Postcard From California
2. California Feelin'
3. Don't Fight the Sea
4. Tropical Interlude
5. Campfire Scene
6. A California Saga
SIDE 2
1. Help Me Rhonda
2. San Simeon
3. Drivin'
4. Honkin Down the Highway
5. California Dreamin'
6. And I Always Will
Maintained by the webteam • Last updated November 1, 2018